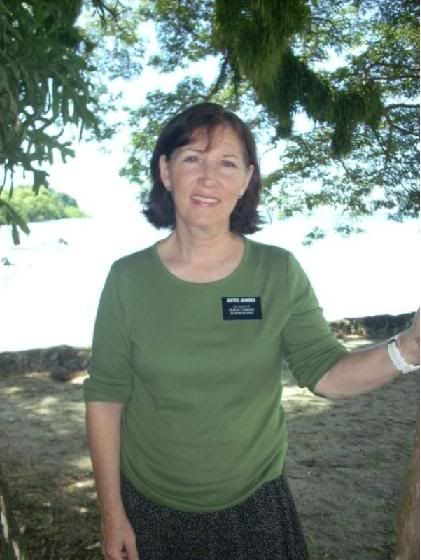 Sister Johnsen: While we have been visiting the people in Palau, I was thinking of a book I read called Learned Optimism. One of the principles in the book relates to our ability to keep trying. When we try something and are unable to do it, and we repeat that multiple times and are still unable to do it, we quit and usually don't try again.
The theory is that if you put a dog in a room and let him jump over the barrier to the other side, he will continue to do that until you place a glass in the way. Then he will try to jump over but when he discovers the glass, he will stop trying. Then, you can remove the glass and the dog will not try to jump over again. This is called Learned Helplessness. There are some real obstacles here and it would not be easy to keep trying.
One of the things we have learned about Palau is that property is almost never sold. It is kept in families. People obtain leases for the land and then live on the site. However, if the lease is up and the property owner doesn't want to renew the lease it to you, you have to move. We have several members in that position. Why would you try to improve your living situation if someone could pull it out from underneath you?
This actually happened to one of our chapels on the island and the building was torn down.
On Saturday we decided to make visits to members because we thought we would find them at home. We stopped by a man's home and visited with him while he chewed on his betel nut. (which is a big word of wisdom no-no) He no longer attends church but has a small and quite clean dwelling. His nephew, who was in his 40's told us all about how to make the "chew" for betel nut.
Betel nut according to the missionaries here is the 4
th
most addictive substance in the world. It makes your teeth black. I It is unlawful to get betel nut off someone else's tree. Families have betel nut trees and they don't share, they sell it. (actually it's an Areca nut grown on a Areca palm tree which is commonly referred to as "betel nut" as it is often chewed wrapped in betel leaves).
Then we stopped to see another member who had not been attending. She has had cancer and she thinks that it has returned. She told us that her husband's family had cheated her out of her husband's pension because she is Filipino. She says they burned down her house and now she lives in a building which previously was her business location. She has 10 children, most of them in the US. She is trying to bottle pickled papaya to raise some money for herself. She lives on a protein drink that lasts her about 15 days of the month. We are not allowed to give members or anyone money. There is great wisdom in this because the poverty is so extreme. But while we were saying a prayer with this sister, I felt that we could at least buy a few bottles of fruit, which was $5 apiece.
When we left there I couldn't go see anyone else. It was too discouraging. Instead of going home we went out to the boat dock in Meyuns to wait for another member who was coming home. I made a list of the things that I could do in Palau because it felt a little hopeless that day. My list includes such things as: pray for the members, speak in church, support my husband in his executive secretary /clerk job, help with the branch position, be a positive presence, study the gospel, visit less active members, feed the missionaries, support the members.
Then we sat and talked about being missionaries in Palau.
A member told me yesterday that there are 400 members on the island. About 50 of them attend church. . Then missionaries have found another 40 who say they are members but are not on the rolls. The ward list has lots of names of people who aren't here but no one knows where they have gone so they can't take their names off the rolls.
Last night, a sister invited me to go visiting teaching with her. She said that it was usually a long time, maybe a year, between the time that they have senior couples come. Brother and Sister Hansen left in August and we came in October.
I sent my three sons to Mexico, Peru, and the Philippines and I just didn't get it until now. It is difficult to come to these countries and see the poverty. But these strong, valiant people in the Branches need our help so much. I have gone from wondering what we are doing here in Palau, to wondering each day how we can get it all done.
One of the things that really surprises me is the custom of taking off your shoes before entering a house. I decided last night it might be a custom that was started when the Japanese had control of the island. They have also asked us to wear Crocs. We found out why the other day. Elder Johnsen decided not to wear his Crocs and while we were in Sister Oie's house it poured outside. My Crocs were fine, but his deck shoes were filled with water. Poor Elder Johnsen!
I try to remember what kind of things I was praying about before I came here. I now see how generous the Lord was with me, even though He could see that he had given m
e so much already.